Area Leaders
Founding Members
Javier Rubio-Manzanares
Francisco Valsera
Go-to-Market Hits
1981 – Physicists meeting, led by Richard Feynman, in MIT. The basis of quantum computing are set.
2002 – ICFO is founded (Read more).
2012 – Jeff Bezos (Amazon founder) and CIA's investment arm (In-Q-Tel) invert in D-Wave Systems, the company that's working on the first quantum computer (Read more).
2012 – A particle is sent from the Observatorio del Roque de los Muchachos (island of La Palma) to Tenerife (Read more).
2013 – Ignacio Cirac wins the Wolf Prize in Physics, the most prestigious awards after the Nobel Prize (Read more).
2013 – Google and NASA found the Quantum Artificial Intelligence Lab in California and buy D-Wave Two (Read more).
2013 – Mike Lazaridis, co-founder of RIM/BlackBerry, founds the Institute for Quantum Computing (IQC) at the University of Waterloo (Canada) (Read more).
2013 – Microsoft establishes QuArc, a research group focused on quantum architecture and computing (Read more).
2014 – SK Telecom introduces its new quantum cryptography devices (Read more).
2014 – Y Combinator and some investment groups found Rigetti, a company focused on creating commercial quantum systems (Read more).
2015 – Barcelonaqbit (bqb) is created in CERN (Geneva, Switzerland). Bqb is the first think thank about quantum information and it is focused on the go-to-market and business of quantum computing and cryptography (Read more).
2015 – For the first time a conference about quantum computing is sponsored by multinational technology companies, such as Google and Lockheed Martin (Read more).
2015 – Antoni Massanell (VP of La Caixa) and Telefónica head APWG.eu, an European project about cybersecurity (Read more).
2015 – ATOS, a technology integration company, and ID Quantique sign an agreement to integrate their quantum cryptography devices (Read more).
2015 – Huawei announces a big investment to create the first technological center about quantum information.
2015 – IBM shows off a quantum computing chip (Read more).
2015 – Toshiba's QKD system comes out on the market (Read more).
2015 – Google says it has proved its quantum computer really works (Read more).
2016 – Barcelonaqbit organizes the first international conference about quantum information and business in the Mobile World Congress (Read more).
2016 – Juan Ignacio Cirac joins the Telefónica Board of Directors (Read more and more).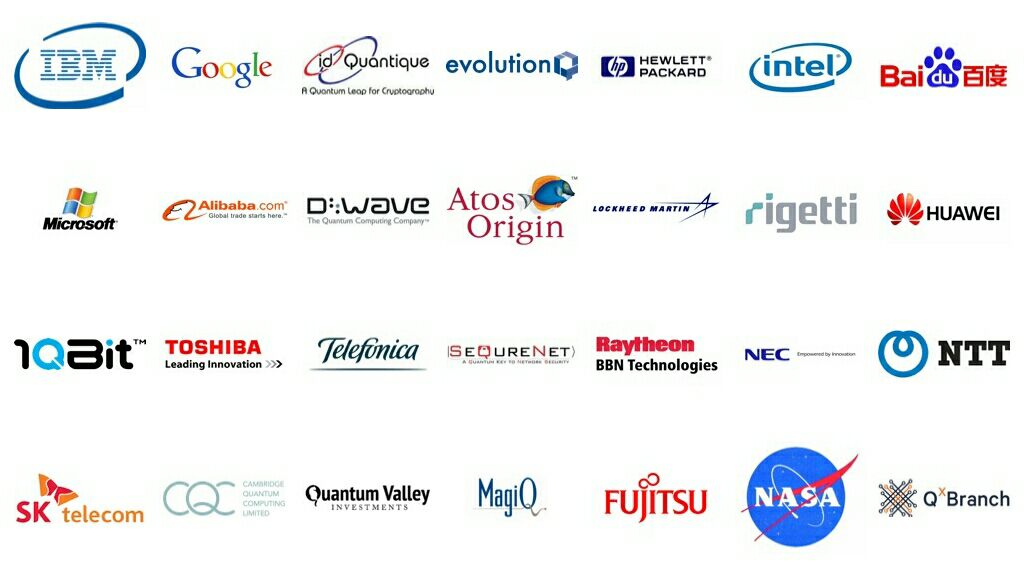 Players

Quantum information is in its infancy, but its market is going to expand in the coming years. It will move billions of dollars and will need thousands of new professionals.
A real revolution, a new technological age.
Countries such as Canada, China, Korea, Russia, Singapore, Switzerland, UK and USA (among other European countries) are working hard to make this new technology come true.
Investors such as Jeff Bezos (Amazon), Mike Lazaridis (RIM/Blackberry) and Serguei Beloussov. And investment funds such as Goldman Sachs, In-Q-Tel (CIA), Quantum Valley Investments and Y Combinator.
Companies such as 1QBit, Alibaba, ATOS, Baidu, Cambridge Quantum Computing, D-Wave, EvolutionQ, GAP Optique, Google, HP, Huawei, IBM, ID Quantique, Intel, Lockheed Martin, Microsoft, NEC, NTT, Quantum Tech, Raytheon, Rigetti Computing, SeQureNet, SK Telecom, Telefónica and Toshiba.
Universities and technological centers such as Autonomous University of Barcelona (UAB), Caltech, Centre for Quantum Technologies, ETH Zürich, Institute for Photonic Sciences (ICFO), Institute for Quantum Computing of the University of Waterloo (IQC Waterloo), Max Planck Institute for Quantum Optics, MIT, NASA, Perimeter Institute, QuArc, Qubit.org, Sandia National Labs, Russian Quantum Center (RQC), Technical University of Madrid (UPM), University of California, University of London and Watson Research Center.
Researchers and professionals such as Antonio Acín, Alexei Bocharov, Jerry M. Chow, Juan Ignacio Cirac, Eddie Farhi, Jay M. Gambetta, Maciej Lewenstein, Vicente Martín, John M. Martinis, Michele Mosca, Hartmut Neven, Jian-Wei Pan, Gregoire Ribordy, Chad Rigetti, Geordie Rose, Sean Seunghwan, Andrew Shields, Krysta M. Svore, Greg Tallant and Li Yang.
CV-QKD systems such as SECQC in Wien, UQCC in Tokyo or Swissquantum in Switzerland. There are networks in cities such as London and countries such as China, South Korea and the USA.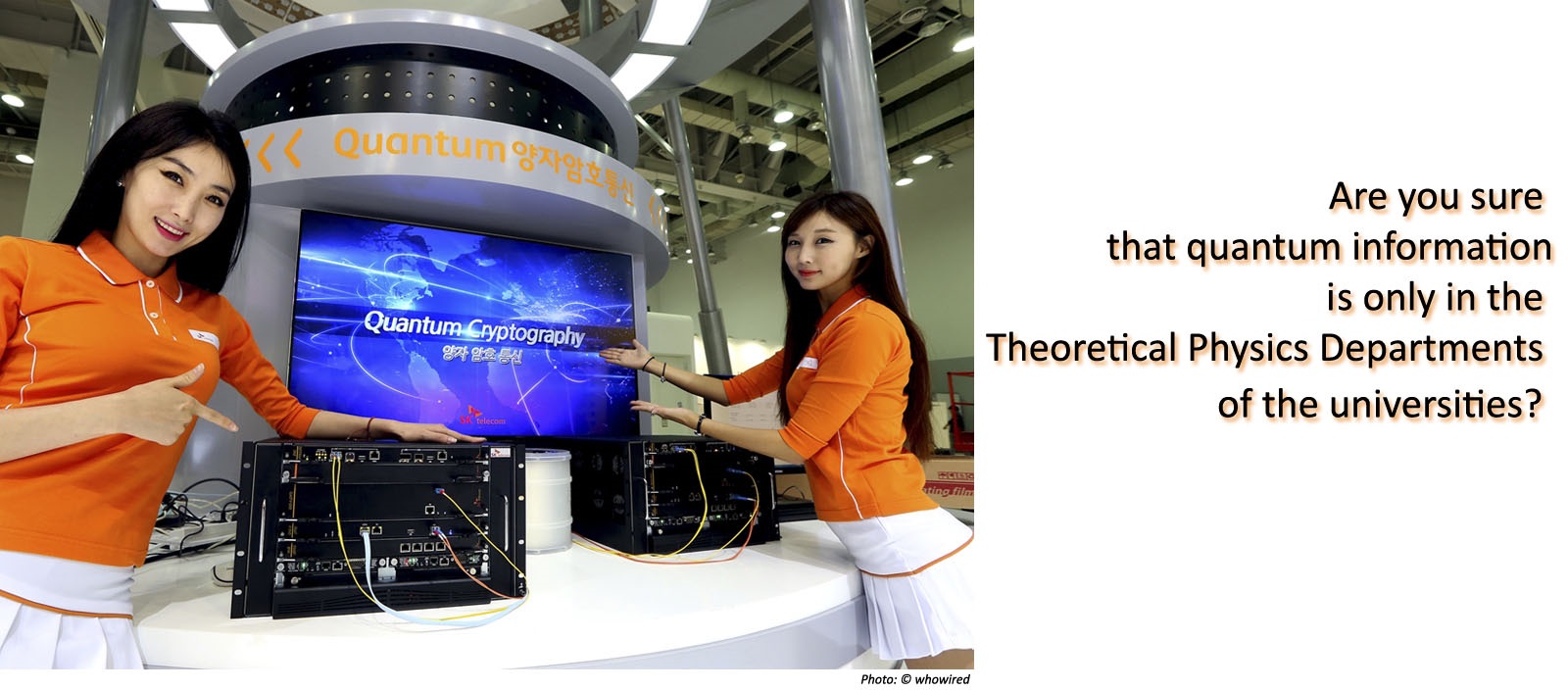 Bqb Strategical Areas
Observatory
News and trends. Information and studies. Quantum Information Patents' world map.
Developers
Quantum computing developers, the computing professionals with a great future.
Business
Go-to-market analysis of a disruptive technology. Proposals for creating companies.
Training
The best training itineraries to become a professional.
Conference
The first international business meeting about quantum information.
Ethical challenges
A new technology poses new ethical challenges. Quantum technology from a deontological point of view.
Bqb Action Plan
1
World Map Patent on Quantum information
Objective information about the reality and the trends of quantum information. What's being done, where's being done and who's doing it.
Are you interested?
2
"Future", the first international community of quantum developers
We are going to work with a Google's quantum simulator. Get ready for the future and enhance your professional portfolio.
Do you want to participate?
3
A complete training program
An introduction to quantum computing, an introduction to Google's quantum simulator, an internship with Google's quantum simulator and a stage in D-Wave Systems, the company that owns a quantum computer. Do not let this unique opportunity get away.
Are you up for it?
4
The first business meeting about quantum information
Companies are going to talk about their own real experiences and show their products. Professionals, researchers, businesspeople, investors…
Do you want to participate?
News
View all news
barcelonaqbit-bqb presenta sus proyectos (qubit Institute, Entanglement Partners sl y Quantum World Association) en el corazón mundial de la industria de la tecnología; el MWC17 de Barcelona. El pasado 2 de marzo, Alfonso Rubio-Manzanares, presidente de barcelonaqbit-bqb, presentó junto a David Arcos, presidente de Qubit Institute; Josep M. Vilà, chairman de Entanglement Partners, […]
Posted in
News
Comments Off